I have not been to a 2-wheel race in quite a while, but that's ok.  I am currently quite busy in Jupiter, Florida, photographing Cobra's Garage Mahal!
Created from the love of Speedway, Jupiter resident Steve Luxton (Cobra) has an astonishing collection of speedway equipment, memorabilia, jackets, helmets, banners, and more.  We will likely not be able to finish our photographic project until late summer of this year.  Today I present just a few photos as a teaser of what is to come.
Before full-face helmets, racers used various methods to prevent face damage that could be caused from the spray coming from the rear tire of the racer ahead of you.  The photo above shows a typical combination of 3/4 helmet, flip visor, goggles, and a 'monkey face.'   Track surfaces might be dirt, shale, limestone, or coal-furnace ash, and coming at you at 100mph it would definitely sting!
Steve, aka Cobra, grew up in Exeter, England, so naturally has a fondness for the Exeter Falcons Speedway Team.
We will be photographing: helmets, race jackets, leathers / Kevlar race suits, speedway bikes, engines,  and much more.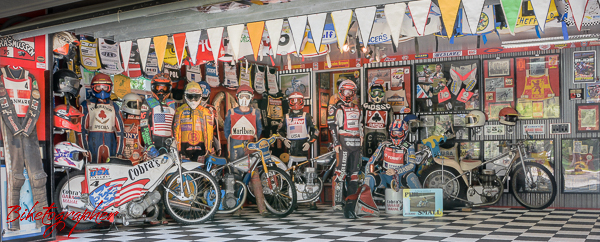 More articles about Cobra's Garage Mahal: