It was a tough decision; I woke up Saturday morning at Daytona International Speedway about 7 hours before the 76th Daytona 200 thinking about the antique / vintage races at New Smyrna Speedway 12 miles away.  Should I actually miss the Daytona 200 to go see a 'new' race?  I had no idea what it would be like.  But I did know that I wanted to see 100 year old bikes actually being used.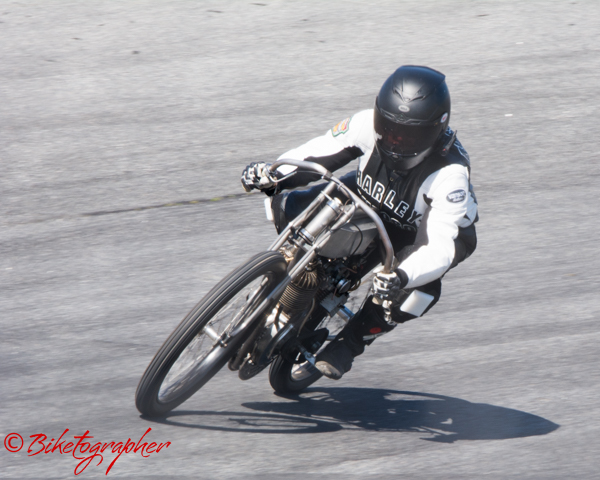 Of course the tires and wheels were 'new'.  The frames were replicas.  But the spirit was 100% board track;  no brakes, no suspension, no gear box and no clutches to be found on the track.
You will have to look elsewhere for good on-track images…  I was sitting in the grand stands like the rest of us ordinary folk.
March 18, 2017 was the inaugural Sons of Speed event.  Though with two women entered, should it be called daughters of speed?
After the practice sessions, heat races, and main event, they let us down into the pits for closer looks.
Board tracks were made of wooden boards and steeply banked.  New Smyrna Speedway is asphalt and lightly banked.  The bikes would be pushed up to the top of turn 4, and when the starter gave the signal, they pushed the bikes down the banking to fire up the engine.